Munising, MI Tornado 7/28/05
Submitted by
L.B.
on Sat, 06/20/2009 - 19:59
Here is a video I found on a MiniDV tape that I had in a box. I shot this video on the shores of Lake Superior at the Munising Tourist Park in Munising, Michigan where I was camping with relatives. This was a pretty rare event, because the Upper Peninsula does not get tornadoes very often. I shot this a few years back, and really had no idea what I was looking at. I was interested in weather at the time, but didn't know much at all. After reviewing this footage since I have gained more knowledge, it really amazes me. The wall cloud is spectacular, and there are numerous funnels in the video, as well as a nice CG which I slowed down in the video.
We were preparing to head to a small restaurant to have dinner, when we noticed the storm over the water. It got really windy, and then a lowering appeared out over the water. It put down a water spout, and literally chased a boat into shore. Unfortunately, I could not find the video on the tape. I must have ran to grab the camcorder sometime after the waterspout. I did not have a tripod with me, because this was unexpected, so please try to ignore the shakiness of the video.
As you can see also from the Day 1 outlooks at 1630Z and 2000Z, Munising wasn't even highlighted as an area for severe storms. No Mesoscale Discussions were ever issued for the Upper Peninsula of Michigan either that day. I guess it was sort of a freak event, and I happened to be in the right place at the right time.

The image above shows the Base Reflectivity, and the Storm Relative Velocity, as well as a small red dot which represents the approximate location of where I shot the video. As you can see, the rotation was only about a half mile North of me, and shows up on the radar pretty nice. Be sure to check out the video below also.

Courtesy of the Storm Prediction Center

Courtesy of the Storm Prediction Center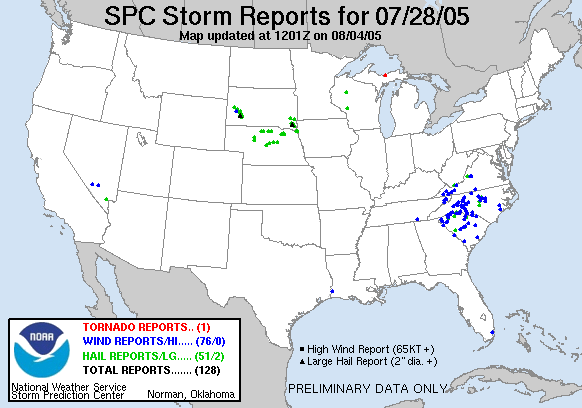 Courtesy of the Storm Prediction Center